At First Church, we care about each other and the world. We look for God in the scriptures and everyday life. We think and pray and break bread together. We ask questions that don't have easy answers. We serve our neighbors. We raise our voices about the justice issues of our day. We proudly belong to the United Church of Christ. We think diversity is a beautiful gift from God and we do our best to truly welcome everyone. Worship is at the core of our life together.
First Church Covenant of Membership
As an inclusive Christian community responding in joy to God's love and faithfulness, we covenant with one another:
to attend to God's activity — in us, around us, and through us,
to live in ways that honor our interdependence with all creation,
to confess our faults and our incompleteness,
to work for justice and peace, and to express the gospel of Jesus Christ in worship, word, and deed.
In light of God's holy mystery, we affirm the right of private discernment, and seek to build together a community of generous hearts and differing but kindred minds.
History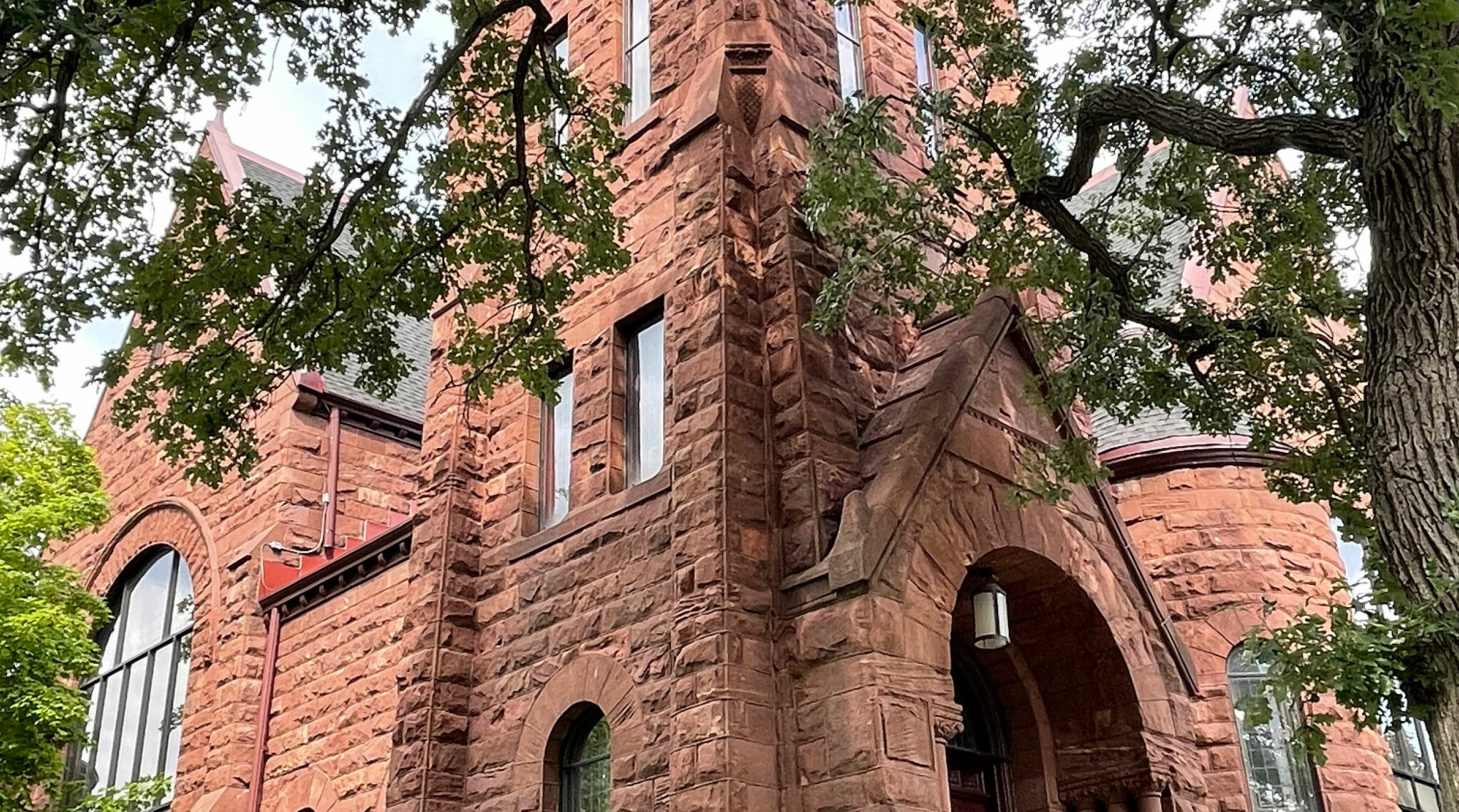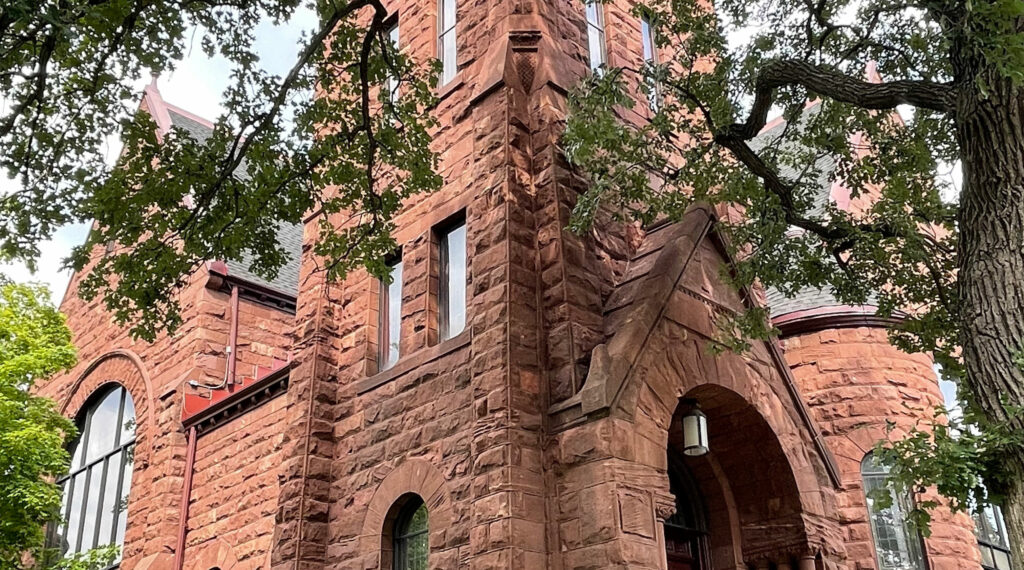 On November 16, 1851, seven years before Minnesota became a state, First Congregational Church was organized in the frontier town of St. Anthony, when seven women and five men covenanted "to walk together" in Christian affection, duty and discipline. The first minister, Charles Seccombe — Calvinist, staunch abolitionist, devoted pastor — had been sent from the East by the American Home Missionary Society for work in the frontier community. For several years the Society gave money to the struggling congregation.
First Church survived hard times and the difficult Civil War period. Over the years it worshiped in different buildings close to the milling industry that led to the rapid postwar growth of Minneapolis, the city with which St. Anthony merged in 1872. The church also grew and prospered. In 1886 it laid the cornerstone of its present building. Built of red sandstone in Gothic-Romanesque style, with round-arched windows and semi-circular rows of pews, it still is one of the best local examples of the distinctive Akron-plan church. The building is now on the National Register of Historic Places.
When erected, the church building stood in a neighborhood of business and civic leaders, some of whose pre-1900 houses can still be seen along Fifth Street Southeast. But as residential patterns changed around 1900, the congregation began an uncertain era of transition. Then, during the 1920s it formed a new relationship to the University of Minnesota. For the next 20 years, First Church was the center of a campus ministry. The congregation gained extra vitality from undergraduate activities and participation by serving as the "church home away from home" for the state's Congregational students.
Different leadership emerged after World War II. Membership and Sunday school enrollment grew, and so a full-time director of religious education joined the staff. In 1945 the first lay moderator marked an increase in lay participation in church affairs. Outreach to the community expanded with a focus on such needs as neighborhood improvement, senior citizen programs, youth drop-in centers, and nursery schools.
In 1961 First Church, accepting the union of Congregational Christian Churches with the Evangelical and Reformed Church, became a member of the United Church of Christ denomination. Another change came in 1969 with the disbanding of the Women's Guild. The guild was the final successor to the many women's groups that since 1860 had so greatly enriched the church's life. Now First Church women, as full participants in all church organizations, were exerting greater leadership in both spiritual and financial matters.
In the 1970s, as Southeast Minneapolis shifted from single-family homes to multiple housing with a transient population, a more widely dispersed membership was still drawn to First Church by the quality of its preaching, its educational programs, its outreach, and its music. During this decade, the church formalized its ongoing commitment to the use of inclusive language and imagery in worship.
In the late 1980s, First Church again witnessed on significant social issues. In 1987, the church voted to become an Open and Affirming congregation, stating that the church resolved to be an inclusive community, welcoming people of any sexual orientation. At that same time, the church declared itself a "Just Peace Church, seeking the interrelationship of friendship, justice and global security from violence." First Church continues to explore ways to be faithful to both of those commitments in our ever-changing world.
In the 1990s, the congregation partnered with organizations ministering to people with AIDS and to families with young children, putting its building to use throughout the week. Since 2001 First Church has participated in an experimental Pastoral Residency Program funded through a grant by the Lilly Endowment. Through the program, First Church helps to nurture young clergy while also benefiting from the creativity and gifts that they bring to the ministry.
For more than 150 years, from frontier-village to urban congregation, First Church has sought to minister to parish, university, and community. Despite many changes, our fellowship of differing but kindred minds still walks together in Christian affection and responsibility.