Our congregation has created an art gallery in our main gathering space (known as Pilgrim Hall). We are pleased to display work from various artists in our community and beyond. We feel blessed to be surrounded by these beauty and spiritually meaningful creations. We welcome inquiries from artists about showing your work.
Current Show Running: Deborah Foutch
Deborah says she is "bowled over by the natural world, by the lush complicated systems we walk through daily. I work in mixed media because the richness of combined materials comes closest to expressing my experience.
"Much of my recent work is tied to a visual examination of the beautiful and complicated systems that make up the living soul, and what holds it in place. Water movement, geology, and history are elements I try to weave into the layered pieces I am currently creating with painted fabrics, eco-printed and painted papers, and found and altered objects that I bind together with painting and quilting techniques into art pieces that dance with texture, light, and line while holding true to their inspiration in nature."
The Art Team will host a reception for Deborah and her work on Sunday April 23. She will also be doing a presentation in honor of Earth Day that morning for a 2nd Hour hosted by the Climate Justice Working Group.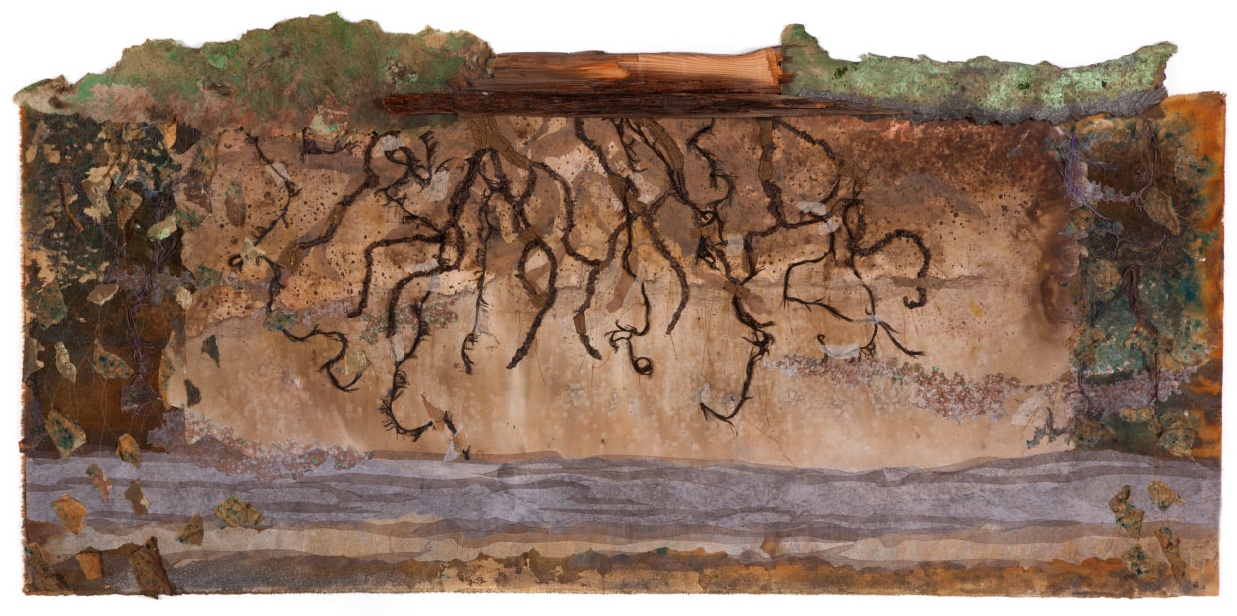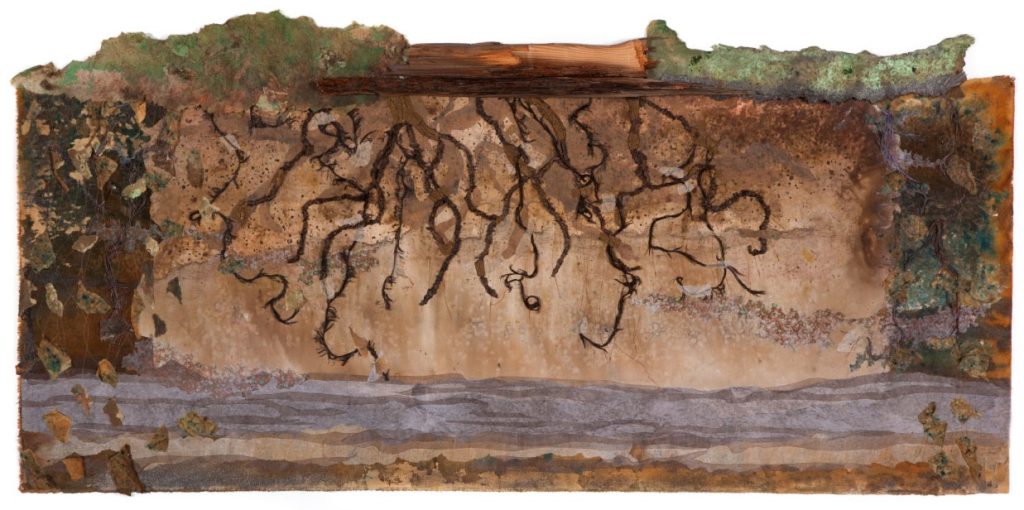 Here are some of the exhibits we have hosted in past years:
Life-size puppets created by children in the First Church community for the production of "Joseph's Colorful Coat"
Photographs of church towers from around the world by Don Loegering
Minneapolis Public School exhibit of students' artwork depicting "What Is Home to Me?" focusing on issues of affordable housing and homelessness
Serigraphs with religious themes by John August Swanson
Hooked art (textiles) by rug hooking artists Tish Murphy, Joan LeVine and Kathy Morton Mulvain
Nature photographs and poetry by Bob Ochtrup, photographer, and Jeff Wolvertine, poet
Watercolor paintings by Ann and Wayne Sisel
Nature prints by Jan Shogren
Favorite art pieces from the First Church community
Watercolors and pastels by Walter Breckenridge
Exhibit of prints by 21 different artists inspired by the poem "Laughing Bear" by Katherine Tilton, which is about domestic abuse. "The Laughing Bear Portfolio" was the inspiration of Diane Eicher who is also one of the artists. First Church also hosted a fundraiser for the St. Paul Domestic Abuse Intervention Project.
Abstract paintings in oils and acrylics and pencil drawings by Amy Smith
Watercolors and sketches by Soon-Wai Wong.
Paintings by Jill Stebbins